Camino Forum Store Special!
Each book ordered will include (at no extra cost):
This is the 2020 edition. 
The guides now contain more practical information than ever before, including more specific information for pilgrims who are looking for albergues that offer group dinners and vegetarian options. 
They include:
The Coastal Route, the Central Route, and the Variante Espiritual!
Comprehensive accommodation directory: Hundreds of properties, including all albergues, hotels, paradors, casa rurales, pensions, and camp sites.
For albergues you will know: how many beds (including private rooms) the albergue has and how much they cost, phone number, months (and hours) open, and whether the albergue accepts non-pilgrims or reservations.
You will also know whether they have a bar/restaurant, a kitchen for your use, whether they serve a group dinner, have vegetarian options, wifi, laundry facilities, or bicycle storage.
City by city information: Navigation tips and cautions, historical references, a list of available service (pharmacies, restaurants, atms, that kind of stuff) and dates for local fiestas.
Large Scale Planning Maps: Large Scale Maps with no pre-determined stages. These maps are at the start of the book and are the best reference for anyone wanting to plan ahead without having to flip through the book.
Elevation Profile: The elevation profile sits alongside the large scale maps, giving you a better overview of the terrain ahead.
City Maps: Lots and lots of city maps. From the small villages to the regional capitals, if there is more than one option for accommodation a map is included to help you find it. These maps are inline with the guide and also show the nearest grocery, albergue, pharmacy, atm, and other bits.
Customer Reviews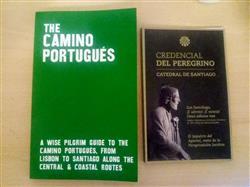 09/27/2018
My second wise pilgrim guide book
I love the wrist pilgrim guides. They have all the information you could need in them.. the text may be a touch small for some people but small letters weigh less than big letters. And we all know how those grams add up when packing your rucksack.
AH
Andy H.
United Kingdom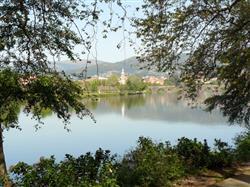 08/23/2017
Ivar's usual excellent service!
The book came within 24 hours of ordering. I may just try to walk the Portuguese Coastal next year! Meanwhile - well done, Ivar!
Stephen N.
United Kingdom
08/01/2017
Delivery to Australia
I pre ordered the Camino Portugues guide and then forgot about it until it turned up on my desk a week after it was released. Great service, easy to order and pay online. I will definitely order from Camino Forum shop again.
02/23/2020
Excellent Product
Definitely great value for the price. Was impressed at how quickly I received my order as well.
Pierina G.
Canada
12/23/2019
2020 Wise Pilgrim
The new version has very little changes. It is no smaller or lighter than the 2019 book. If you have 2018 or 2019 don't bother with the new one. The same error is on the map on the inside front cover that was there before. But ordering from Ivar is great.
Gloria L.
United States
12/18/2019
Easy to use guide.
Me and my wife will do the Camino Portuguès in spring 2020 and we bought the guide as a complement to the excellent Wise pilgrim apps for our Iphones. The guide is easy to use I would say, excellent maps and otherwise basically it´s all you need when you´re out on adventures on the Iberian peninsula. We´ve already visited the area between Lisbon and Santiago as tourists a couple of years so we´re are familiar withe the area.
Henrik H.
Sweden
11/13/2019
Good book
This book looks helpful! Of course, we will have to see how it is when we are actually walking the trail.
Anonymous
United States
10/28/2019
purchase of wise pilgrims guide
Good service and quick shipping to the west coast of North America.
Anonymous
United States
08/20/2019
The Camino Portugues
I would highly recommend this guide, as the various routes are colour coded and it gives details of accommodation and other relevant services. I also received my Credential with the guide and it was a prompt delivery.
Beverley W.
Australia
08/19/2019
Trouble free
Trouble free purchase and arrived in good condition.
SB
Sharon B.
Australia