Now shipping!
Camino Forum Store Special!
Each book ordered will include (at no extra cost):
Also get 1 The "Caminos to Finisterre & Muxía Guide" free with this book (if this is of interest, please select it in the drop down when you order).  
The 2020 edition has been redesigned and updated for the 2020 walking year. 
The guides now contain more practical information than ever before, including more specific information for pilgrims who are looking for albergues that offer group dinners and vegetarian options. 
They include:
A comprehensive accommodation directory.  Over 900 properties, including all albergues. Hotels, paradors, casa rurales, pensions, and camp sites. For albergues you will know: how many beds (including private rooms) the albergue has and how much they cost, phone number, months (and hours) open,  and whether the albergue accepts non-pilgrims or reservations.  You will also know whether they have a bar/restaurant, a kitchen for your use, whether they serve a group dinner, have vegetarian options, wifi, laundry facilities, or bicycle storage.
City by city information. Navigation tips and cautions, historical references, a list of available service (pharmacies, restaurants, atms, that kind of stuff) and dates for local fiestas.
Large Scale Maps: 

 

Large Scale Maps with no pre-determined stages. These maps are at the start of the book and are the best reference for anyone wanting to plan ahead without having to flip through the book.
Elevation Profile: 

 

The elevation profile sits alongside the large scale maps, giving you a better overview of the terrain ahead.
City Maps:

 

Lots and lots of city maps.  From the small villages to the regional capitals, if there is more than one option for accommodation a map is included to help you find it.  These maps are inline with the guide and also show the nearest grocery, albergue, pharmacy, atm, and other bits.  
Detours and alternative routes: The camino splits in a few places, and when it does an overview is provided to help you visualize the option ahead.
Customer Reviews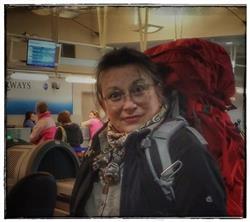 08/01/2017
Great book
Very enjoyable to read. After eight Caminos, this is a good book. One I wished I would of used.
Marianne T.
United States
02/03/2020
Camino Frances Guide book purchase
At this stage I haven't actually used the guide book, we begin our Camino journey in April 2020. So this review is just covering the ordering & delivery of the item....ordering was easy and straight forward and the item was received quickly despite being delivered to the other side of the world and over the Christmas period! So yes, very happy with purchase and will definitely recommend the Casa Ivar Forum shop :)
Debbie S.
New Zealand
12/31/2019
CF 2020
Great product, arrived a lot quicker than expected. But then again, it all arrives quickly from Ivar :)
David B.
United Kingdom
12/24/2019
Wise Pilgrim Guide. A necessary addition.
I have made a number of purchases from the Camino Forum Shop. Shopping this way is abit akin to' keeping it in the family'. Although waiting for my purchases a little longer having to go all the way 'down under', it is worth the wait and have never has an issue. The complimentary pilgrim passports are an added bonus.
Dennis W.
Australia
12/24/2019
Excellent
Received my guide. Very excited. More than expected! Thank you!
Kenneth R.
United States
12/16/2019
A PILGRIM'S GUIDE TO THE CAMINO DE SANTIAGO 2020
Irrive in perfect condition with passport.
Harry C.
United States
12/11/2019
great, order came quickly.
great, order came quickly.
Anonymous
Canada
12/11/2019
pilgrim guide.
absolutely brilliant, a very informative pocket size guide book, great finish on the cover. keep up the good work,
graham l.
United Kingdom
12/11/2019
The Camino Francis
Love the book so much great information Thanks.
Stuart C.
New Zealand
07/14/2019
THE BEAST
IT'S THE BEAST GUIDE EVER
Anonymous
Israel