Camino del Norte - Irún to Santiago along Spain's Northern Coast
This Village to Village Map Guide to the Camino del Norte is a lightweight minimalist guidebook to walking the Way of Saint James from Irún to Santiago de Compostela on the Camino del Norte.  The Camino del Norte traverses the rugged and stunning northern coast of Spain on a well-marked traditional pilgrimage route replete with pilgrim hostels.
With 37 full-color stage maps and over 100 city maps, you'll always know where you and where you're going. Detailed accommodations listings show everything you need to know about pilgrim hostels (albergues) as well as private accommodations for each budget. Planning and route tips keep you informed, in a pocket-sized book that weighs just 100 grams.
This map guide to the Camino del Norte provides walking information for over 830km of the Northern Camino from Irún to Santiago de Compostela in a lightweight, minimalist format which includes:
Full-color detailed

 

topographical stage maps

 

of each day's walk with free GPS files online
Detailed

 

accommodations listings for pilgrim and private lodging including contact information, amenities and approximate prices
143 detailed

 

stage, city and town maps and elevation profiles including town amenities such as ATM, pharmacy, grocery store, etc.
Practical information

 

on packing, how to get there, where to stay and more
Walking notes

 

and helpful tips
Paperback Details:
Paperback: 96 pages
Publisher:

 

Village to Village Press, LLC; Third edition (January 2020)
Language: English
ISBN-13:

 

978-1-947474-19-2

Product Dimensions: 7 x 4.95 x 0.15 inches (17.7 x 12.6 x 0.4 cm)
Weight: 96g/3.4oz
Customer Reviews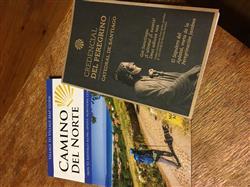 06/11/2018
Very happy with this purchase
Wonderful book that will help me plan my camino del norte for May 2019.
02/20/2020
Camino Norte Book
Only just reading it-trip this fall
Raymond R.
United States
11/04/2019
.
I like it, fast delivery
Zana V.
Lithuania
09/22/2019
New guide
It's always been better and faster than expected.
Anonymous
United States
07/14/2019
Camino del Norte
I have received Camino del Norte. It appears a good guide. But I should have ordered Camino Primitivo which is on its way to me now. The del Norte guide will be used sometime in the future. Thanking you, Sid Cullen.
Anonymous
Australia
06/11/2019
Camino del Norte (Village to Village Guide)
Very concise book, gives the essential information in a very compact and lightweight book.
Michael M.
United Kingdom
06/10/2019
The best!
It's faster getting items shipped from you in Spain then it is here in the US. Great job!
Tamra C.
United States
05/27/2019
Great
Wonderful as usual.
Tamra C.
United States
05/18/2019
Recomended as one guide to your camino walk. Not that detailed.
Fairly good I would say.
04/19/2019
Camino Del Norte
Concise overview of route. Showing where there is hard surface vs dirt trail; alternate routes is a nice feature.